Vacation Bible Study
Vacation Bible School is a High Energy!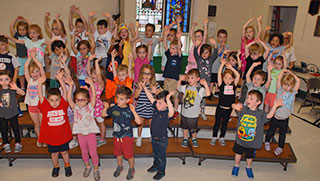 St. Luke's Vacation Bible School is about having fun, learning about God, and teaching our kids basic principles about being accepting to one another, supporting one another, and encouraging one another because God loves all of us.
VBS is one week long in August, usually the week after our ECEC Summer Program.
VBS starts at 9am and goes until noon, however, we understand the need for full day care and provide both early morning drop-off as well as aftercare until 4pm.
After each day of VBS prepare to be hear your kids singing a new song, talking about their new bible buddy, and eager to come back tomorrow. The excitement for VBS is due to the high energy, engaging and fun time they have playing games and doing crafts all while learning about God.
Details
Children ages 3 years old and toilet trained, up to 5th grade can participate in VBS as students.
Typically held the 3rd week in August, VBS runs from Monday – Friday from 9am to 12pm.
Optional before care from 8 am- 9am and after care 12pm- 4pm are available at an additional fee.
Children ages 3, 4 and 5 years old participate in Jump Bunch, an age appropriate program tailored to their developmental level.
Registration begins online on March 1, 2020 and ends July 31, 2020. No late registration and no walk ins. For school and summer program parents you may register when you register for the summer program.
Click below to watch a slide show of last year's VBS, MEGA SPORTS CAMP – Team Spirit.
Volunteering
Had fun at VBS? Don't want the fun to end? Think about volunteering. Teen volunteering begins at age 13 years old up to 17.
Adult volunteers are welcome and needed.